This report, article and documentary come from the Mineral Policy Institute's focus on the Hidden Valley mine in the Morobe Province of Papua New Guinea. This was MPI's PNG focus from 2012-16, with a gradual transition to the related and much larger Waf-Golpu proposal from 2014-2019+.
---
Hidden Valley (22 minute documentary)
Director: Jessie Boylan Editor: Anthony Kelly Cinematography and Photography: Jessie Boylan Producer: Charles Roche
---
The 22 minute documentary was released in 2013 – A people speak out for their river, and for their future. The Hidden Valley gold and silver mine in the Morobe Province is affecting communities living along the Watut River, a long and fast-flowing river in the lush mountains of Papua New Guinea. In this evocative and beautifully shot short documentary we hear how indigenous models of development are clashing with those imposed by mining companies and government when they are not listening to local landowners.
We hear from a diverse range of local community representatives, community workers and landowners including Reuben Mete from the Union of Watut River Communities and from Dr. Gavin Mudd, an environmental engineer, as they describe the impacts of this jointly Australian – South African owned mine as well as the way forward to a more sustainable future.
---
Mining in Morobe, Papua New Guinea – Impacts from mining along the Watut River
Authors: Roche, C & Mudd, G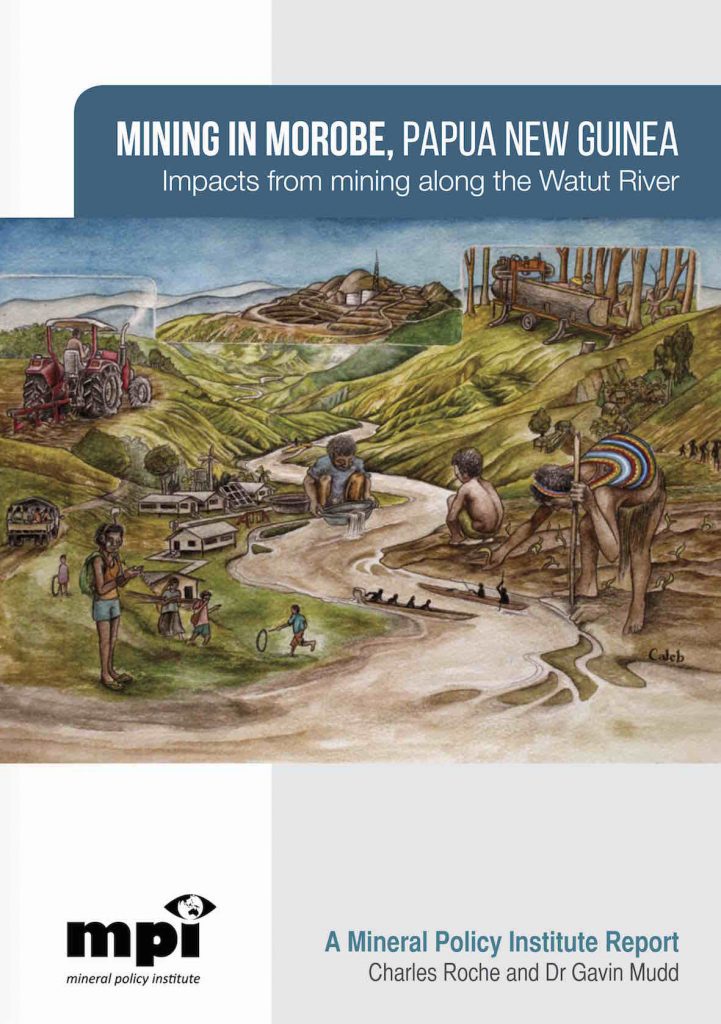 Exec Summ: This report is about the impact of mining on communities living along the Watut River and in the Morobe Province of Papua New Guinea. Given that similar reports could also be written about other mines it is also a report that applies more widely to the PNG mining industry. While the impacts from mining on the Watut River are minor in comparison to those at Porgera, Ok Tedi and Panguna, they are nonetheless serious. Serious because of the impacts on local people, the repetition of past mistakes and as an example of the slow progress of reform in the mining industry.
The impetus for this report comes from many sources. For the Mineral Policy Institute it is a continuation of our work on a range of mine-sites and mining related impacts in Papua New Guinea since 1995. Watut River Communities became increasingly concerned about riverine impacts from the Hidden Valley mine since construction commenced and asked MPI to assist in late 2010. Subsequently, in early 2012 MPI was commissioned by the Lutheran Evangelical Church of Papua New Guinea, with support from Mission EineWelt in Germany to assess impacts from mining in the Watut River region.
---
Mining In Morobe Papua New Guinea – Impacts, Assurance and Self-determination
Authors: Mudd, G & Roche C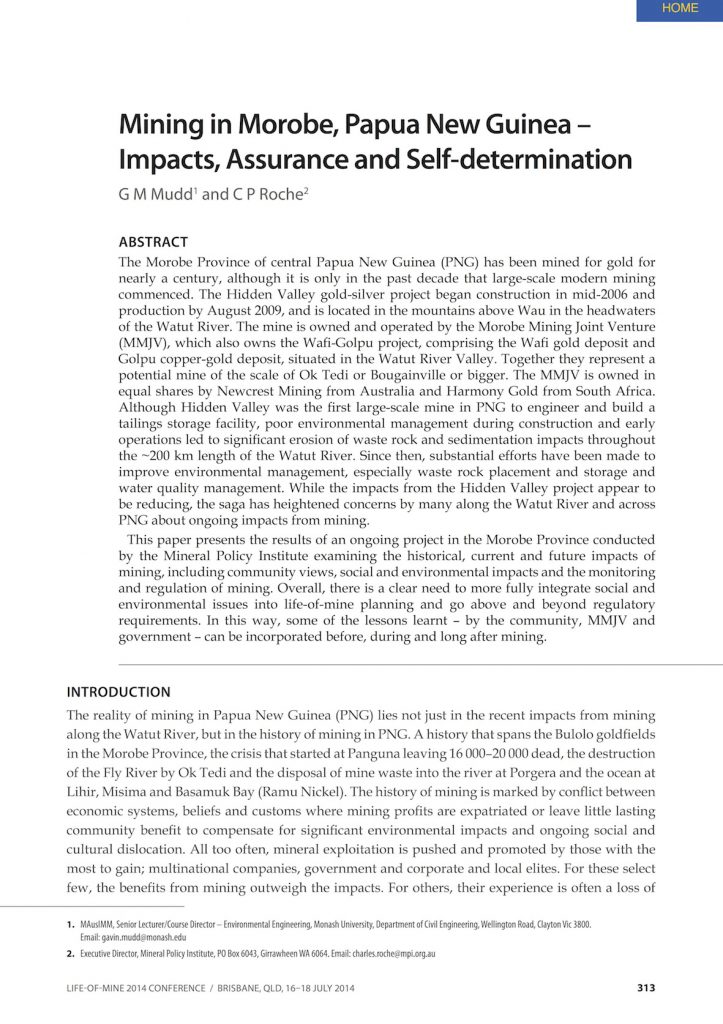 Abstract: The Morobe Province of central Papua New Guinea (PNG) has been mined for gold for nearly a century, although it is only in the past decade that large-scale modern mining commenced. The Hidden Valley gold-silver project began construction in mid-2006 and production by August 2009, and is located in the mountains above Wau in the headwaters of the Watut River. The mine is owned and operated by the Morobe Mining Joint Venture (MMJV), which also owns the Waf-Golpu project, comprising the Wafi gold deposit and the Golpu copper-gold deposit, situated in the Watut River Valley. Together they represent a potential mine of the scale of Ok Tedi or Bougainville or bigger. The MMJV is owned in equal shares by Newcrest Mining from Australia and Harmony Gold from South Africa. Although Hidden Valley was the first large-scale mine in PNG to engineer and build a tailings storage facility, poor environmental management during construction and early operations led to significant errosion of waste roack and sedimentation throughout the ~200 km length of the Watut River. Since then, substantial efforts have been made to improve environmental management, especially waste rock placement and storage and water quality management. While the impacts from the Hidden Valley project appear to be reducing, the saga has heightened concerns by many along the Watut River and across PNG about ongoing impacts from mining.
This paper presents the results of an ongoing project in the Morobe Province conducted by the Mineral Policy Institute examining the historical, current and future impacts of mining, including community views, social and environmental impacts and the monitoring and regulation of mining. Overall, there is a clear need to more fully integrate social and environmental issues into life-of-mine planning and go above and beyond regulatory requirements. In this way, some of the lessons learnt – by the community, MMJV and government – can be incorporated before, during and long after mining.