This is the site of my current work and much of the PhD. It grew out on an initial focus on Hidden Valley mine which is situated higher in the Watut River valley. Two articles have been published in Extractive Industries and Society in 2019. These articles are available through the journal or by emailing me directly, but summarised (de-academicised) versions are available below in Tok Pisin and English.
---
Human flourishing and extractive-led development; "The mine will give me whatever I like"
Authors: Charles Roche, Nawasio Walim, Howard Sindana, Wafi and Watut Communities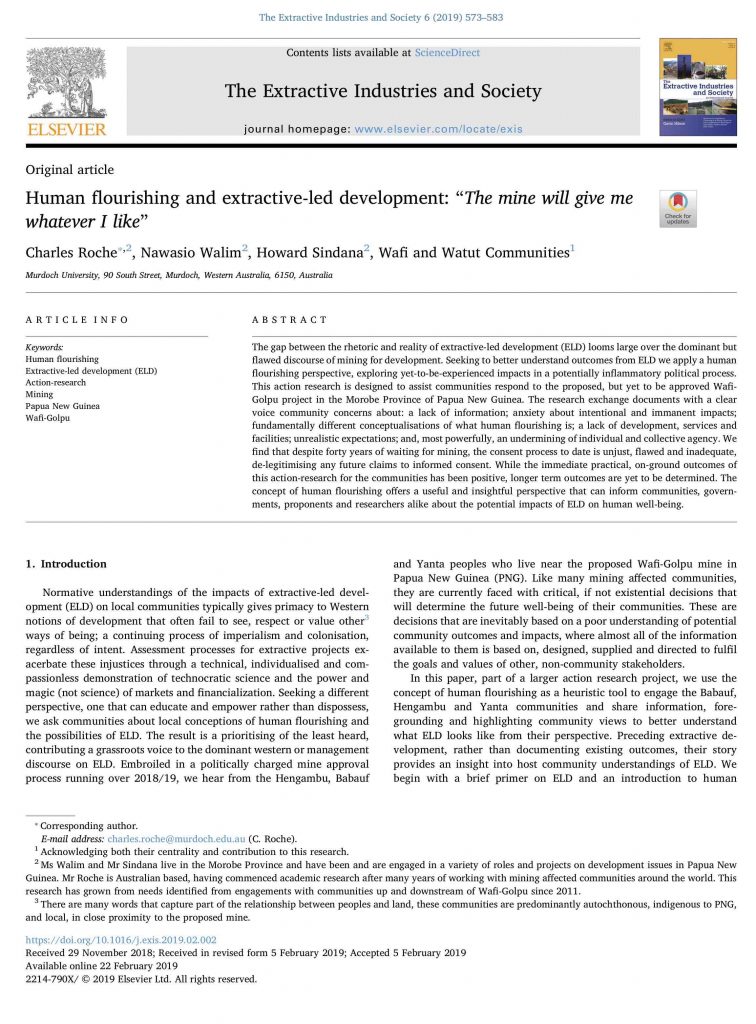 Abstract: The gap between the rhetoric and reality of extractive-led development (ELD) looms large over the dominant but flawed discourse of mining for development. Seeking to better understand outcomes from ELD we apply a human flourishing perspective, exploring yet-to-be-experienced impacts in a potentially inflammatory political process. This action research is designed to assist communities respond to the proposed, but yet to be approved Wafi- Golpu project in the Morobe Province of Papua New Guinea. The research exchange documents with a clear voice community concerns about: a lack of information; anxiety about intentional and immanent impacts; fundamentally different conceptualisations of what human flourishing is; a lack of development, services and facilities; unrealistic expectations; and, most powerfully, an undermining of individual and collective agency. We find that despite forty years of waiting for mining, the consent process to date is unjust, flawed and inadequate, de-legitimising any future claims to informed consent. While the immediate practical, on-ground outcomes of this action-research for the communities has been positive, longer-term outcomes are yet to be determined. The concept of human flourishing offers a useful and insightful perspective that can inform communities, governments, proponents and researchers alike about the potential impacts of ELD on human well-being.
Available from the journal or your University library – though following academic convention – you can always contact the author directly.
---

Extractive Dispossession: "I am not happy our land will go, we will have no better life"
Authors: Charles Roche, Howard Sindana, Nawasio Walim, Wafi and Watut Communities
---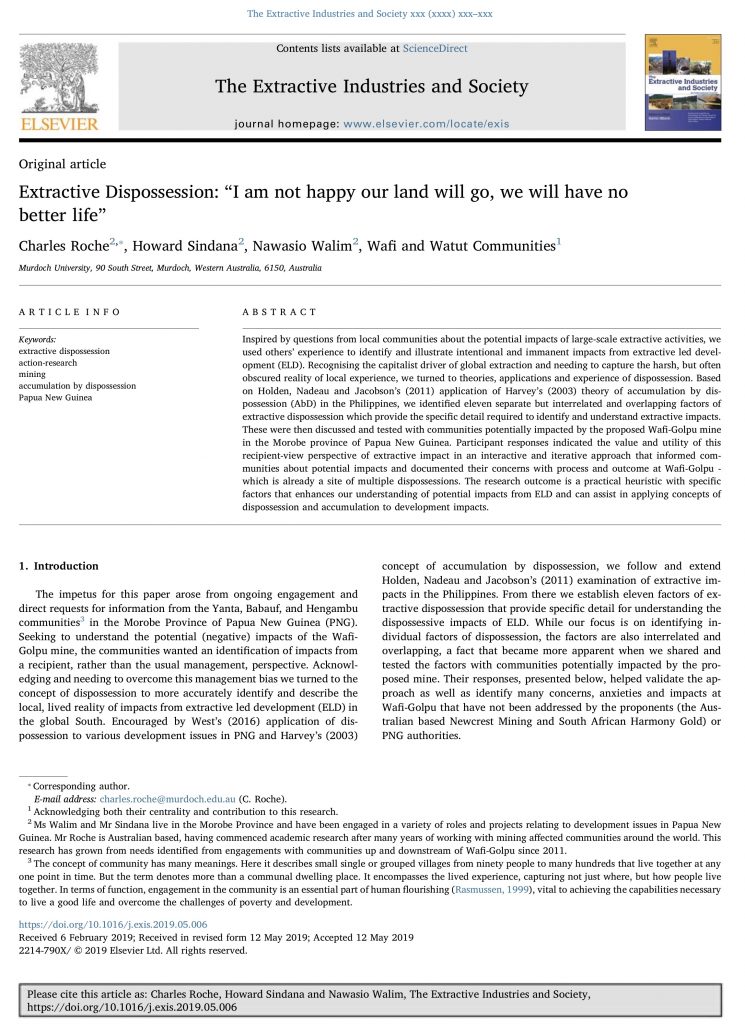 Abstract: Inspired by questions from local communities about the potential impacts of large-scale extractive activities, we used others' experience to identify and illustrate intentional and immanent impacts from extractive led development (ELD). Recognising the capitalist driver of global extraction and needing to capture the harsh, but often obscured reality of local experience, we turned to theories, applications and experience of dispossession. Based on Holden, Nadeau and Jacobson's (2011) application of Harvey's (2003) theory of accumulation by dis- possession (AbD) in the Philippines, we identified eleven separate but interrelated and overlapping factors of extractive dispossession which provide the specific detail required to identify and understand extractive impacts. These were then discussed and tested with communities potentially impacted by the proposed Wafi-Golpu mine in the Morobe province of Papua New Guinea. Participant responses indicated the value and utility of this recipient-view perspective of extractive impact in an interactive and iterative approach that informed com- munities about potential impacts and documented their concerns with process and outcome at Wafi-Golpu – which is already a site of multiple dispossessions. The research outcome is a practical heuristic with specific factors that enhances our understanding of potential impacts from ELD and can assist in applying concepts of dispossession and accumulation to development impacts.
Available from the journal or your University library – though following academic convention – you can always contact the author directly.